Centre for Energy Research – EK (Hungary), NucAdvisor (France), Nuclear and INdustrial Engineering S.r.l. – NINE (Italy), VUJE, a. s. (Slovakia), Uni-Energy Ltd. (Hungary) and European Nuclear Education Network – ENEN (Belgium) have decided to join their extensive expertise and experience in a consortium which won the European Commission (EC) tender specification entitled "Training and tutoring for experts of the Nuclear Regulatory Authorities and their Technical Support Organisations for developing or strengthening their regulatory and technical capabilities – MC3.01/20".
The project is implemented under the European Union (EU) external assistance programme called the European Instrument for International Nuclear Safety Cooperation (INSC) and aims to support the National Nuclear Regulatory Authorities (NRAs) and their Technical Support Organisations (TSOs) in non-EU countries in strengthening their capabilities with regard to their regulatory tasks and responsibilities in the field of nuclear safety.
The project has been launched in January 2022, and several training and tutoring (T&T) activities will be carried out over its nearly three-year duration to assist the non-EU NRAs and TSOs in developing and maintaining competences and skills related to the different areas of regulatory responsibilities and functions and also to provide the underlying technical knowledge necessary for the effective nuclear safety regulation.
http://nuclear.jrc.ec.europa.eu/europeaid-safety-training/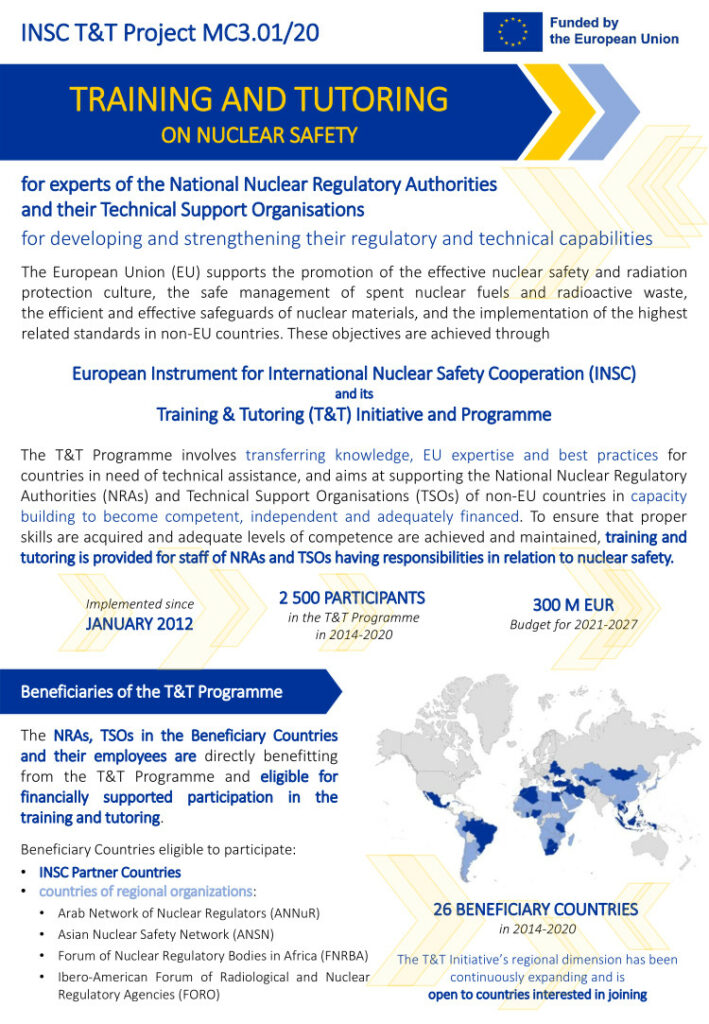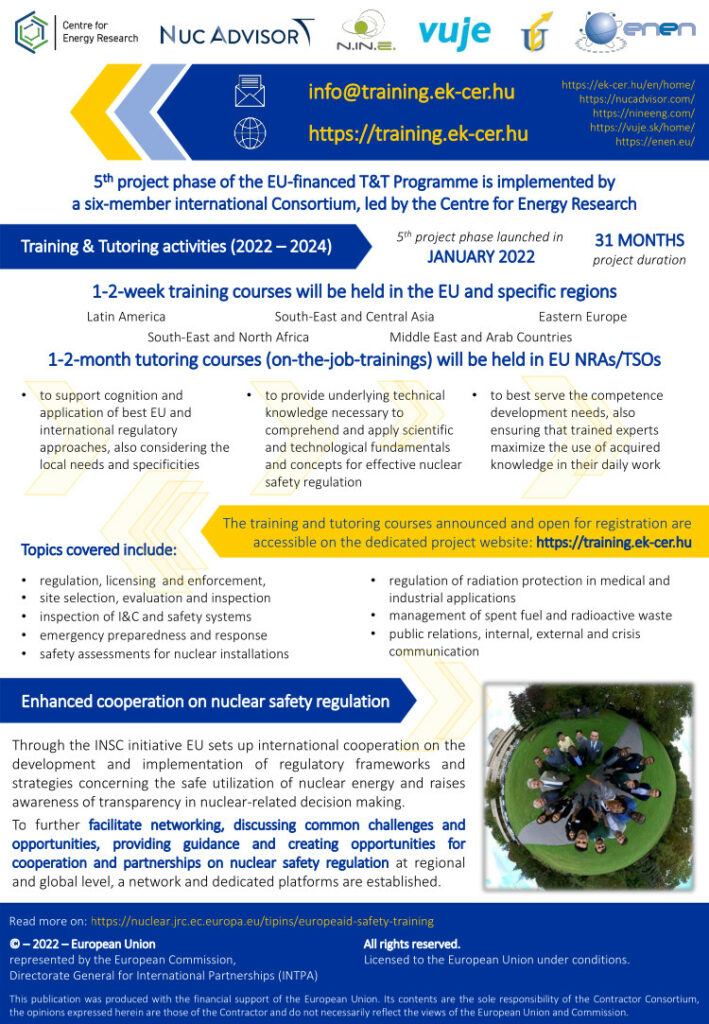 EK is a TSO of the Hungarian Atomic Energy Authority (HAEA), involved in the development of decision support system used in the Centre for Emergency Response, Training and analysis. EK has several years of experience in training professionals from developing countries, in recognition of this, in 2016 it has become the collaborating centre of IAEA. EK is a member of European Technical Safety organisations Network (ETSON), as well. EK has strong industry links since several decades, is involved in safety analysis of existing and planned nuclear facilities, and operates the Budapest Research Reactor. They have successfully participated and led numerous international projects. They have extensive links with universities, experts of the Research Centre take part in gradual and post-gradual education and also participate in activities initiated by IAEA and EU.
https://ek-cer.hu
NucAdvisor, subsidiary of Soletanche-Freyssinet group, is a nuclear consulting company established by a group of senior executives from across the European nuclear industry. They have extensive experience of design, licensing, construction and start-up of nuclear facilities, and the interfaces with regulatory bodies, furthermore provide advisory services, technical assistance and financial expertise, as well as training for clients across the whole of the nuclear sector. NucAdvisor is regularly solicited by the French government to support French nuclear operators and the French safety authority, as well as by the European Commission. As part of its Owner Engineer activities, NucAdvisor is responsible for supporting and training its client, new nuclear players (designer, owner, operator, safety authorities, TSO), on all the issues of the sector. NucAdvisor has a strong international presence, outside Europe: Bolivia, Jordan and Saudi Arabia rely on NucAdvisor to increase their competence and to align themselves with the best standards. NucAdvisor is made up of high-level experts in the fields of nuclear safety, radiation protection, nuclear and radiation waste management, safeguards and decommissioning activities. A business line is dedicated to waste management activities, including security aspects. Among its business lines, one is dedicated to Nuclear Safety, Security and Safeguards and one another to waste management activities.
https://www.nucadvisor.com/
NINE is a private nuclear engineering company having an extensive background experience in the area of Nuclear Reactor Safety Assessment and Licensing. They offer attractive Multi-Level Training Courses every year that meet the needs of stakeholders in the nuclear sector, thanks to cooperation with top level international experts who share expertise and competencies gained from their work in the industry, regulatory bodies and academia. Several Engineers of NINE supported the IAEA SAET (Safety Assessment Education and Training) programme which goal was to support IAEA Member States in building and maintaining independent safety assessment competency and capacity addressing the needs both of utilities and regulators. The programme was divided into several training modules that were provided in several countries (e.g. Jordan, Malaysia, Vietnam, Poland, Bangladesh) for three years each with about 12-15 weeks per year.
https://www.nineeng.com/
VUJE is an engineering company providing services in the energy sector, with a special focus on nuclear power plants. Its activities have included regulatory support and active long-term participation at the establishment and operation of Slovak nuclear industry, at preparation, construction, operation and decommissioning of power installations. Their training centre is aimed at preparation of specialised personnel for the nuclear power plant operation. Training consists of a theoretical part and a practical training on simulators. They are authorised to certify the attendees to be competent to operate in the nuclear power plant. Besides this, they provide specialised occupational training for classic power plants, and power system employees, and others. All training programs are constantly updated and improved.
https://www.vuje.sk/

Uni-Energy Ltd, wholly-owned subsidiary of the University of Miskolc, has an important domestic role in the further development of higher education and training in nuclear technology and energy, which knowledge transfer has paramount importance in Hungary, in particular because of the planned new nuclear power plant at Paks site. They main activity is to provide services to industrial partners based on university infrastructure and intellectual background. This primarily means research and development, industrial measurements and expert services. In addition, the coordination and implementation of tenders related to the educational activities of the university, as well as the organization and conducting of specialized further trainings are also provided by Uni-Energy. Furthermore, the development of the curriculum of new, modern specializations and the provision of its technical background are also part of the activity of Uni-Energy.
ENEN is an international non-profit organisation (aisbl) established under the Belgian law. The main purpose of the ENEN Association is the preservation and the further development of expertise in the nuclear fields by higher education and training in Europe, which objective is realised in several international projects through the co-operation between their 79 members, including universities, research organisations, regulatory bodies, the industry and other organisations involved in the application of nuclear science and ionising radiation.
https://enen.eu/
Beneficiary Countries of the project who are eligible for financially supported participation in the T&T courses are the INSC Partner Countries (as below), but countries of regional organizations such as the Arab Network of Nuclear Regulators (ANNuR), the Asian Nuclear Safety Network (ANSN), the Forum of Nuclear Regulatory Bodies in Africa (FNRBA), and the Ibero-American Forum of Radiological and Nuclear Regulatory Agencies (FORO) can also participate in and benefit from the Programme.
INSC Partner Countries:
Algeria
Armenia
Belarus
Bosnia and Herzegovina
Botswana
Brazil
Egypt
Georgia
Ghana
Indonesia
Iran
Iraq
Jordan
Kyrgyzstan
Malaysia
Mexico
Moldova
Mongolia
Morocco
Nigeria
Philippines
Serbia
South Africa
Tajikistan
Tanzania
Thailand
Turkey
Ukraine
Uzbekistan
Vietnam